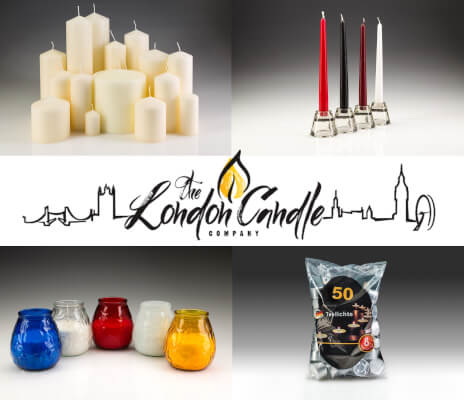 Express Bulk Candles
Express bulk candles. Low priced, high quality candles from The London Candle Company. We supply anyone looking for candles in bulk. If you are a bar, restaurant, hotel, florist, events company – or indeed anybody who requires quality candles in bulk, please visit the shop:
Low Priced Quality Candles from The London Candle Company | Wholesale Candles At Low Prices From London Candles | Pillar Candles | Night Lights | Dinner Candles | Lowboys | Floating Candles | Rechargeable & Battery Candles | Candle Holders | Paraffin Lamp Oil | Oil Lamps | Bamboo Torches | Catering Candles | Hospitality Candles  | Scented Candles | BULK BUY AND GROUP PURCHASE DISCOUNTS ARE AVAILABLE.
Tel: 020 7207 4458 or email: info@londoncandles.uk
Our delivery is fast, our stock availability is superb and our customer service is friendly and helpful. We will express deliver your candles. Lowest UK prices, cheap prices from The London Candle Company. Free UK delivery for orders over £50 plus vat. Buy in bulk and save. Bulk buy and group purchase discounts are available.